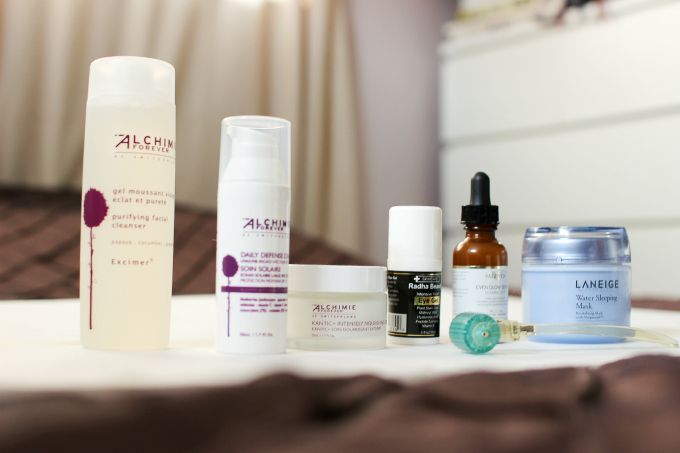 Sometimes you just have to push yourself and do things out of your comfort zone.
And for me this post is just that.
I had been wanting to share my skin care routine forever
But found a deep fear of publishing photos with my bare face.
No make-up, no filters, no skin edits.
Ohhhh the horror!
I overcame my fears today and feel so good about sharing this with all of you.
Note, that all the photos you see here are with no make up and no edits.
Let's be real guys...
Noone is perfect.
Noone has flawless skin and looks airbrushed as you see on Instagram.
Striving for perfection is silly but you can definitely take measures into your own hands and better your skin with the right products and the right routine!
When I turned 25 I immediately saw a downward spiral of my skin.
I suddenly had fine wrinkles and my cheeks were sagging.
I became self-conscience and to be honest pretty depressed about what was going on.
It's sad to say but my appearance means a lot to me.
So, I began researching products and tools that would revive my skin.
After a year and a half of actively using these products I can say my skin has changed 100%.
I no longer look tired and dehydrated.
I feel fresh faced and am confident enough to not wear any makeup!
Below is a break down of my skin care routine,
I hope you enjoy it and try out these products for yourself.
Daily:
I wash with luke warm water for about 3 minutes massaging my skin and getting all the dirt out.
Focusing on the bottom and sides of my eyes.
This stuff is amazing and has helped a ton with my dark circles and puffiness!
4. After my serum has dried I apply
Alchimie Forever's Kantic Nourishing Cream
, this is my fountain of youth. It's infused with antioxidants like blueberries, jojoba and vitamin E and it has literally changed my skin forever! I highly recommend this product.
Weekly:
1. About twice a week I use my
microneedle
which I roll all over my face for about 5 minutes.
The microneedle is a small tool (the blue one pictured above) that has tiny needles all over.
By rolling the microneedle you create tiny punctures in your skin that help produce collagen and instantly plump up fine lines and wrinkles.
This can be harsh so I only do it 2-3 times a week.
2. Lastly, I use the
Laneige Water Sleeping Mask
twice a week. The sleeping mask is cool, light and fresh. Infused with orange flower, rose and sandalwood it leaves my skin feeling smooth and fresh.
I hope you enjoy these products and try them out for yourself!
If you do please tag or email me to let me know what you think.
I'd love to know!
xo
ejc
Powered by BrandBacker