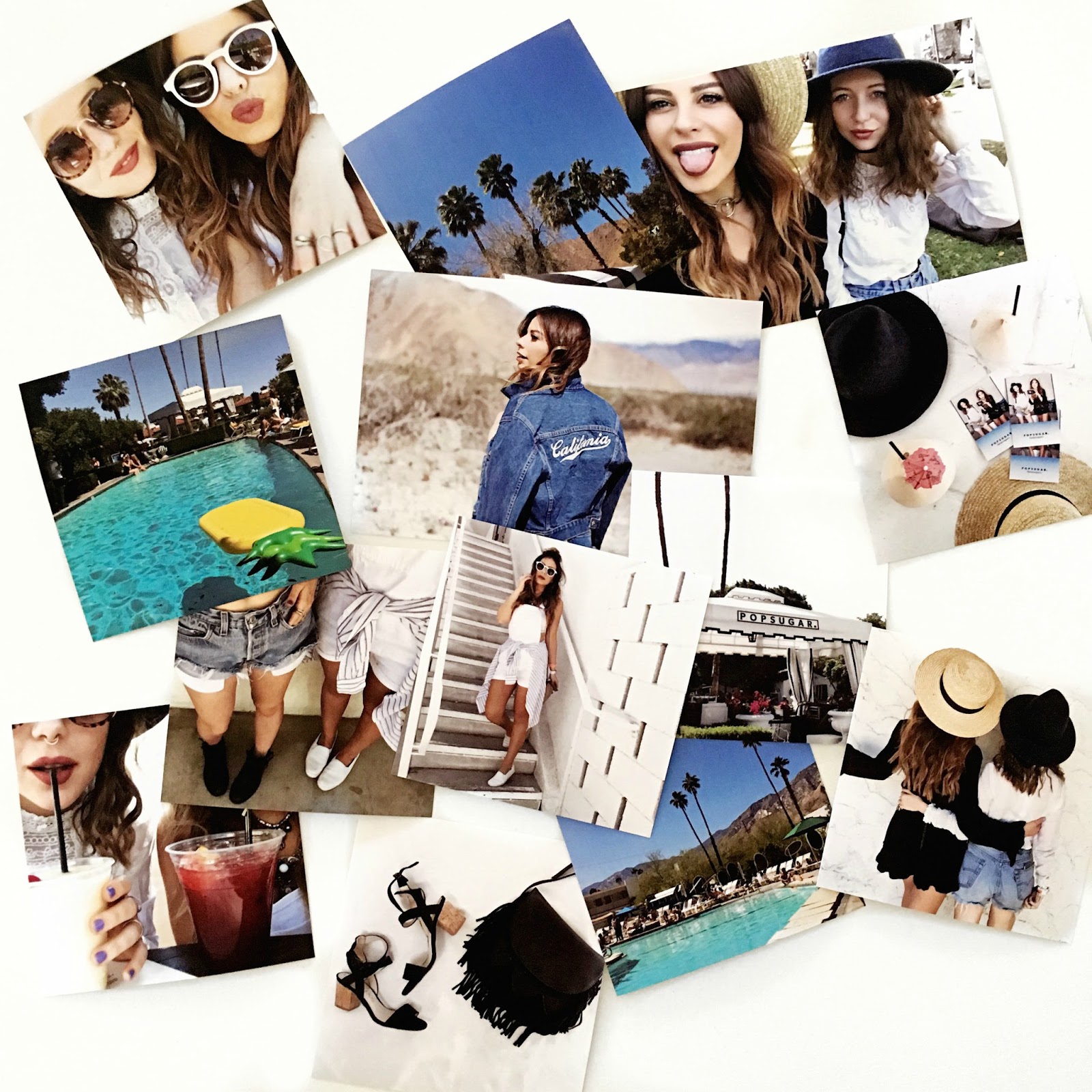 Photos have been a major love of mine from the very beginning. As a kid I remember my mother an aunt dressing me up in clothes and having me pose while they napped away. In my teens and early 20's I was the designated camera-man for all my friends, toting around my dinky little digital camera and snapping as many candid party shots as I could. Now, as a full-time blogger I take photos every waking second, literally. Photography has been a huge part of my life and it's a passion I will always nurture.
A few weeks ago, the first weekend of Coachella to be exact. I had the pleasure of attending the POPSUGAR Cabana Party with Walgreens Photo. It was incredible to escape to the desert for a day and enjoy some coconuts under the blazing Palm Desert sun. Naturally, I took my bestie Jenna, and when the two of us are together the photos just keep rolling. She knows all my angles and we really enjoy the whole process of getting a great shot, editing and of course sharing on Instagram! What I miss the most is tangible photos and flipping through an actual album…remember those days?!
So, I decided to take my favorite photos from the POPSUGAR Cabana event and create a DIY project! I went to my local Walgreens and printed a ton of 4×4 square images! I used code COACHPICS to get 40% off my prints (valid 4/15 – 5/31)! I then cut some thick thread in two pieces and pinned them to my wall with push pins. I bough some wooden clothing line clips and clipped my photos to the line! A simple, easy DIY project that is tangible and puts a smile on my face! Be sure to use the code COACHPICS to get 40% off your prints and share those images on social with hashtag #sharelifeshappy!
xo
ejc
*Disclaimer: Coupon code COACHPICS valid up to 5 uses per Walgreens.com/photo account or the Walgreens Mobile App thru May 31, 2016. Code must be entered at time of checkout to apply discount. Includes collage. Discount does not apply to previous purchases, taxes or shipping charges. Orders must be placed by logged-in customer by May 31, 2016 at 11:59 p.m. Central Time to qualify. Timing will be determined by Walgreens server clock. Offers cannot be combined on one product. Multiple coupons can be used in one cart if no overlapping products exist in the offers being applied. Shipping costs may apply if in-store pickup is not available in your area. Offer not valid in store. Void where prohibited. No cash value. Subject to change without notice.

This post was sponsored by Walgreens through their partnership with POPSUGAR. While I was compensated by POPSUGAR to write a post about Walgreens, all opinions are my own. Thank you for supporting the brands that support this blog!

Wearing: Romper – c/o Morrisday The Label