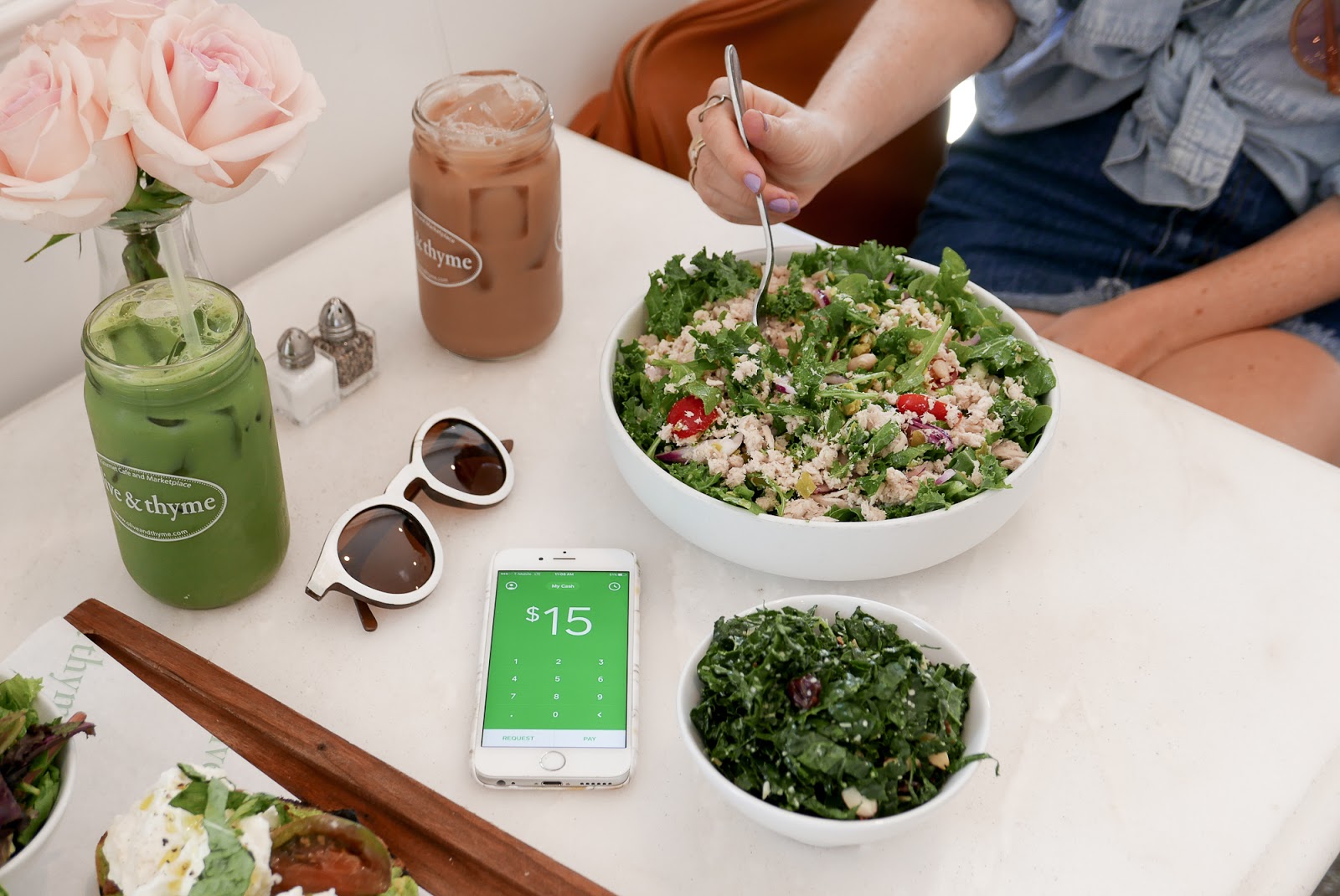 Brunchin' and lunchin' – it's what Jenna and I do best. Living in LA gives us the opportunity to wake up every morning and drive to a new lunch spot. Whether it's the ambiance or menu that has coming back for more is of course entirely up to the restaurant but a place we visit time and time again is Olive & Thyme. Situated in the Burbank area, Olive & Thyme is a bright, airy eatery with the best marble tabletops ever! And for a blogger like me you know white tabletops are a must…if only for that Instagram shot! I personally love their Avocado toast, both in their breakfast and lunch menus. Jenna always gravitates toward a kale salad which is equally as delicious!
We recently visited and had a quick bite to eat, discussing our business plans and what we hope to achieve by years end. Living in two places (as most of you know I am not completely moved into Emin's apartment yet) always leaves room for error and forgetting things! I grabbed my Vince handbag which did not have my wallet in it and dashed out the door. Luckily, Jenna had her card and paid for the lunch. I had been using Venmo to pay back friends and family for things here and there but recently discovered a new app through a friend,
Square Cash
. What I love most is that
Square Cash
is the only app of its kind to provide an instant transfer for only 1%. I sat at our table and transferred the $15 I owed Jenna and she instantly received it, right then and there! I also appreciate the clean, minimal design which makes it easy to use and understand. It's a totally life saver! Highly suggest it compared to it's competitors and I am not just saying that! Also, highly suggest Olive & Thyme for those of you who are new to LA or LA-ians but have never tried it! You must!
xo
ejc
This post is sponsored by Square Cash. All opinions are my own. Thanks for supporting the brands that support this blog.