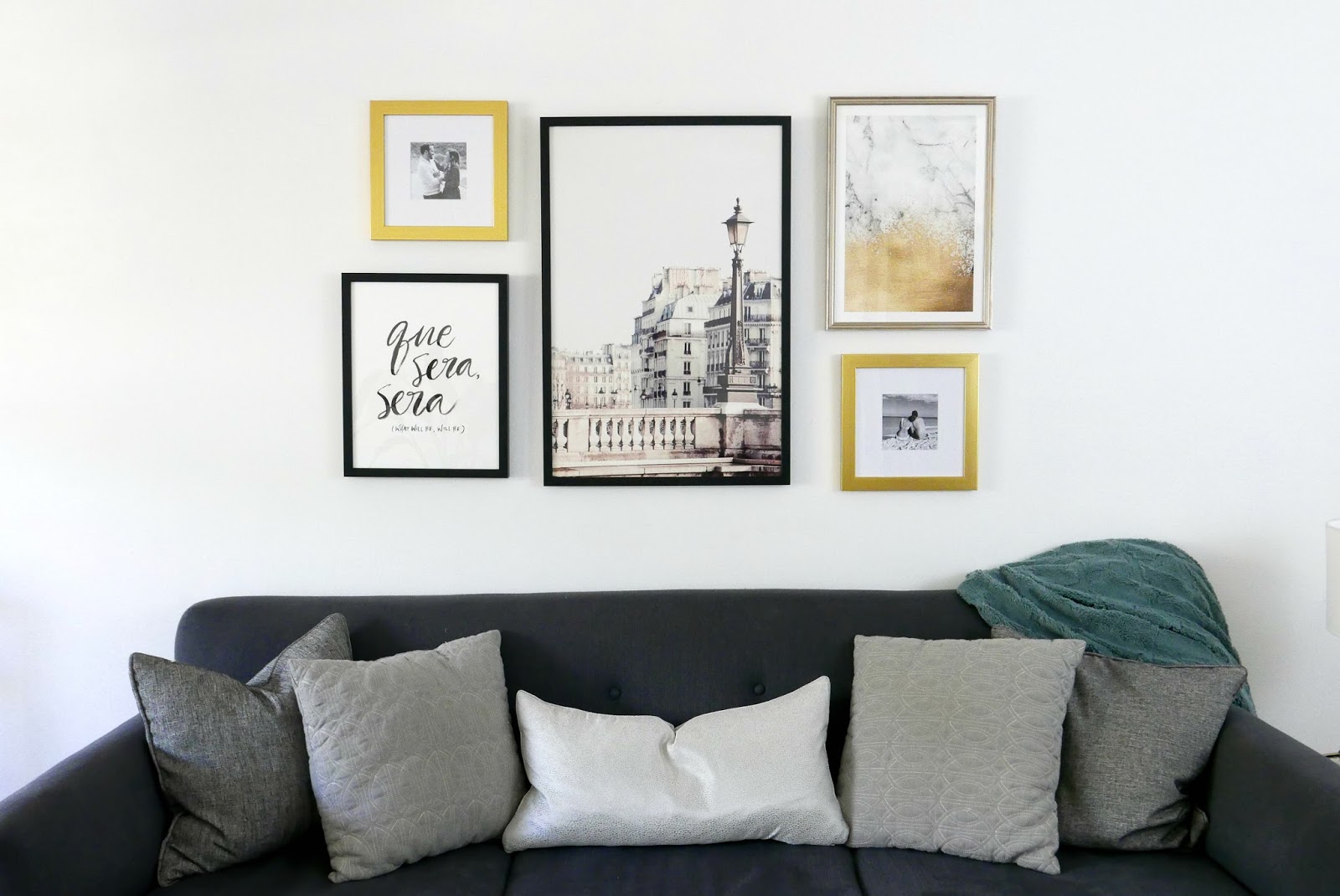 This post has been a long time coming and bare walls do not make me a happy girl! But, finally my gallery wall is up! It's crazy to see the room transform with a blink of an eye.
I moved in with Emin a few months ago and as a woman I set out to make the place…ummm….cuter, homier and Insta worthy. We're still working on furniture and the placement of things but to have artwork and photos up makes it so official.
I had purchased Instagram photos + frames from Framebridge for my cloffice and knew that Framebridge was the way to go for my gallery wall. They make is so incredibly easy to send physical artwork and the process took less than a week!
I decided I wanted one focal photo and what better focal photo than a dreamy capture of a bridge in Paris. Once I chose that image the rest followed…a classic "Que Sera, Sera" quote and a play on marble texture with a marble + gold splash print. To personalize the group I framed black and white photos of Emin and I.
What I loved most about Framebridge was the ability to upload art and choose from an array of frames, everything from gold to white, thin and thick. They gave you visuals of what the piece would look like in the frame which made it so easy to decide!
The frames came with nails and hooks, easy enough that I could do it on my own (which is saying a lot!). We had originally planned to have a symmetrical set up but after nailing the frames a bit off centered from each other we changed our minds and left it as is. I love the way it turned out, better than expected! The flow of images and the combination of frames really work.
Framebridge is also an amazing gift to give this season! You can print out 5×5 prints (like the ones of Emin and I) to gift to your loved ones instantly on their website. Personal, thoughtful and everlasting.
Use code STILETTOBEATS15 for 15% off your first frame!  

xo
ejc