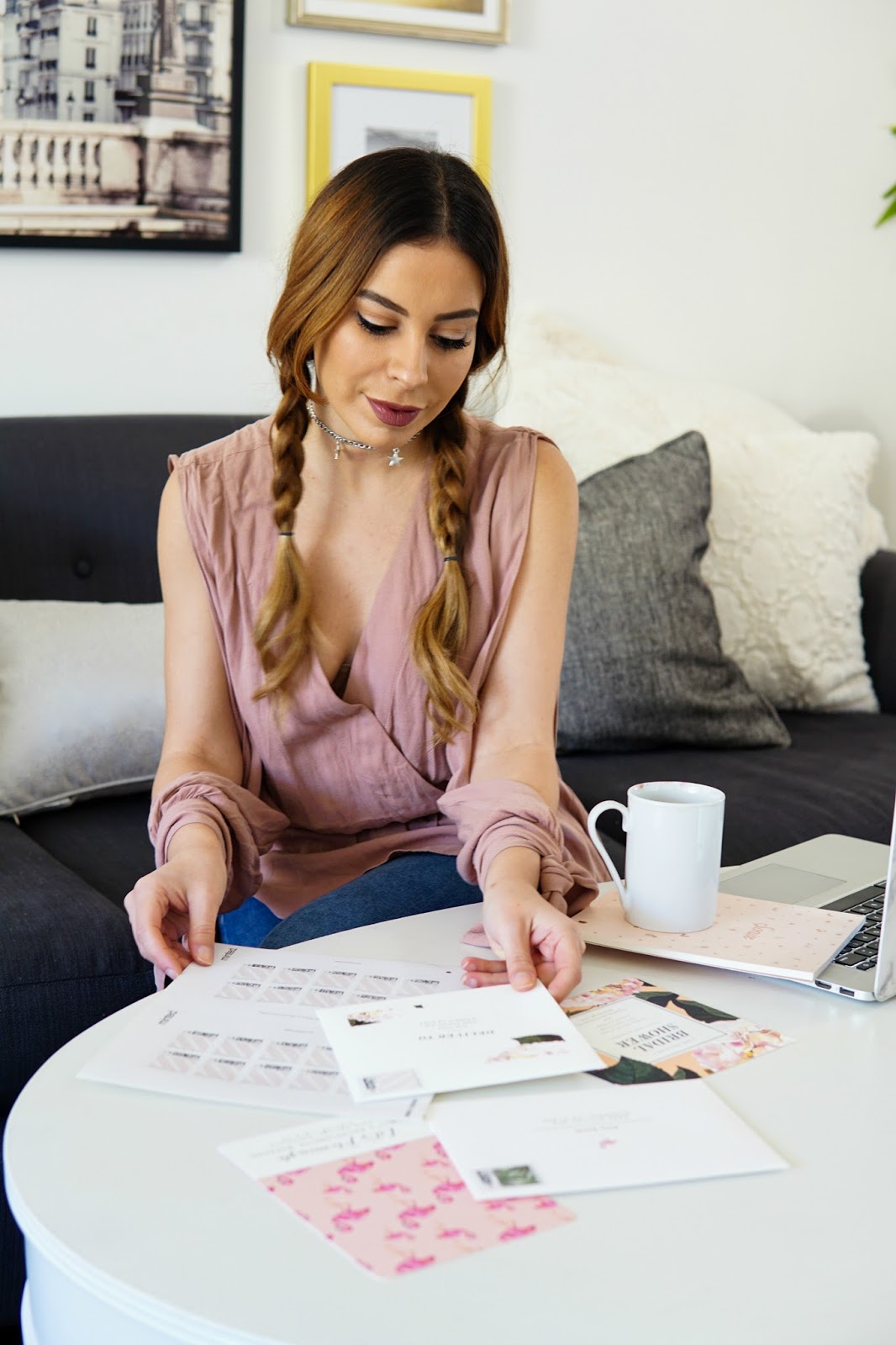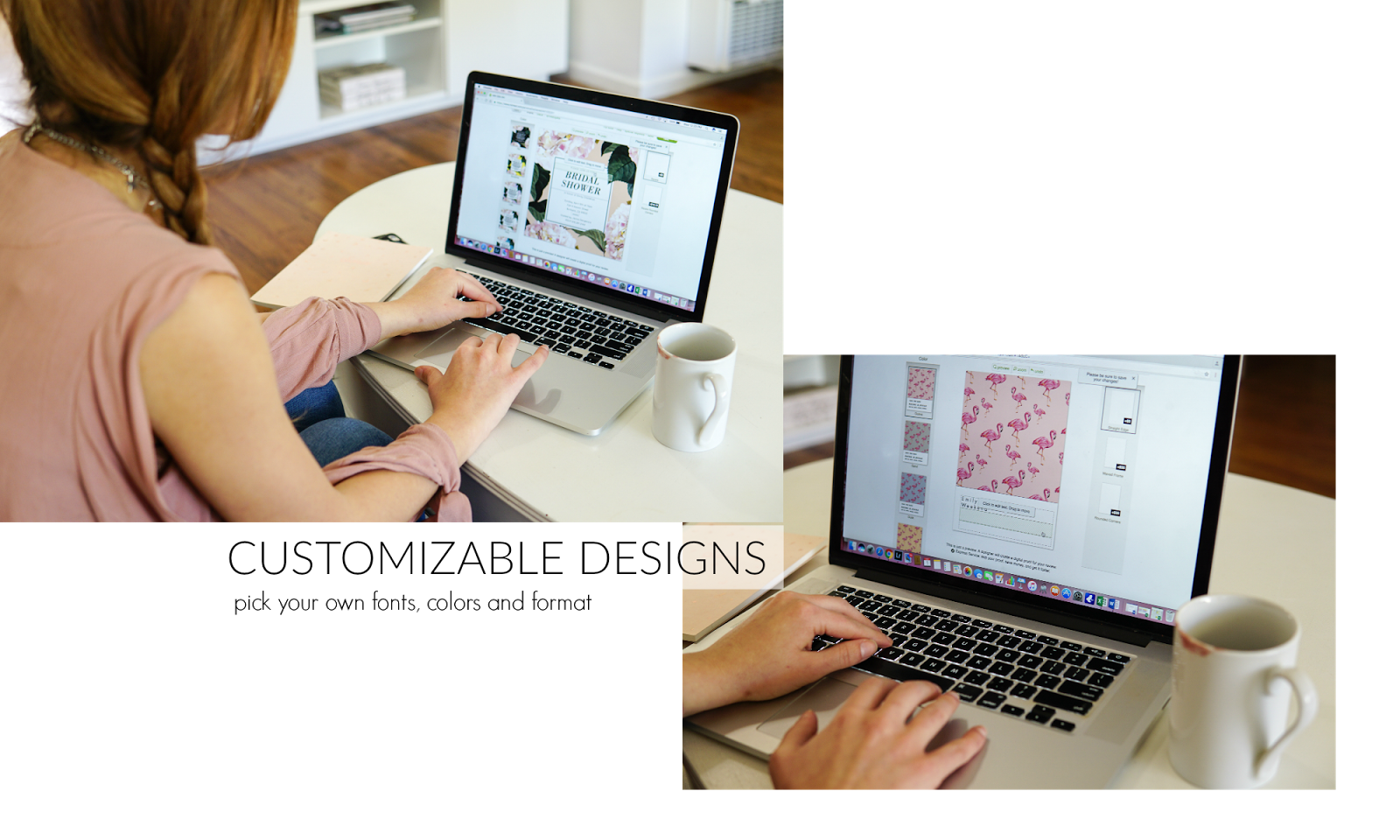 The endless list of wedding to-dos! It really is never ending (but in the best way possible). I'm so excited to share this post with you guys…my first official wedding entry where I share exactly what I did! The wedding is only two months and two weeks away…crunch time is an understatement.
I'm happy to announce that I finally completed invitations for my Bridal Shower and Bachelorette Party! In the grand scheme of things these may seem like tiny tasks and details but creating these invitations with Minted was probably one of my favorite things to do (who knew that complimentary stamps could bring you so much joy).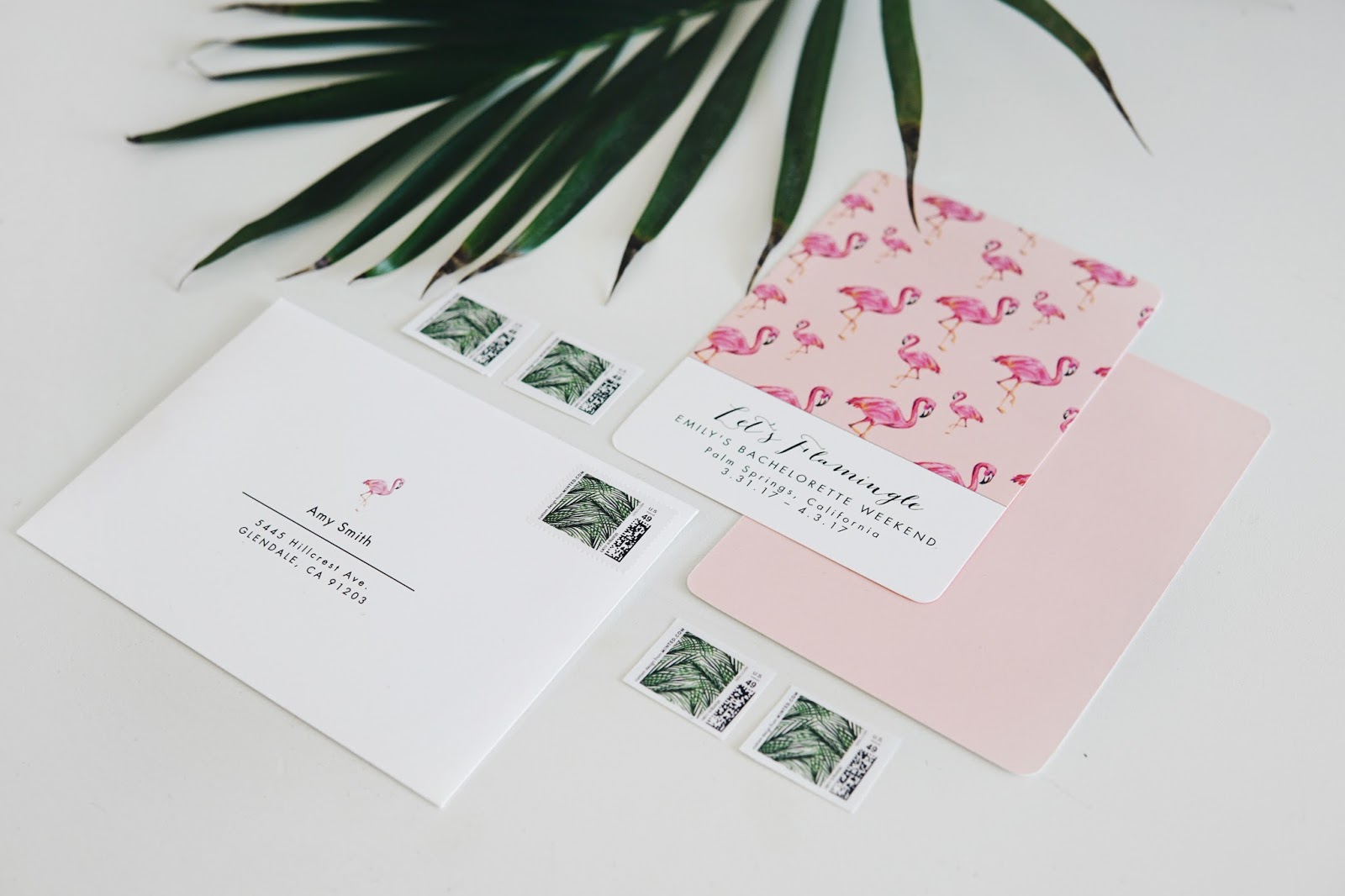 I first set off to tackle the Bachelorette Party since I knew the exact theme and concept. Ten of my best girlfriends and I will be basking in the Palm Springs sun for the weekend! I decided to channel a Flamingo-Retro theme a la Palm Springs in the 60's. I first browsed Minted's Bachelorette Party invitations, they have a great selection to choose from but none seemed to fit with my "Flamingle" bash. I then decided to search the word "flamingo" and an array of invites popped up! I immediately fell in love with an invitation that had a flamingo wall paper design but they were marked as Save The Date cards. No problem! Minted allows you to customize invitations as much as you want. Anything from the background color to the font. Thus, I took what was marked as a Save the Date and made it a Bachelorette Party! The site is so easy to navigate…I first chose a pink background that was also the color for the back of the card. I then decided to round out the edges and change up the font.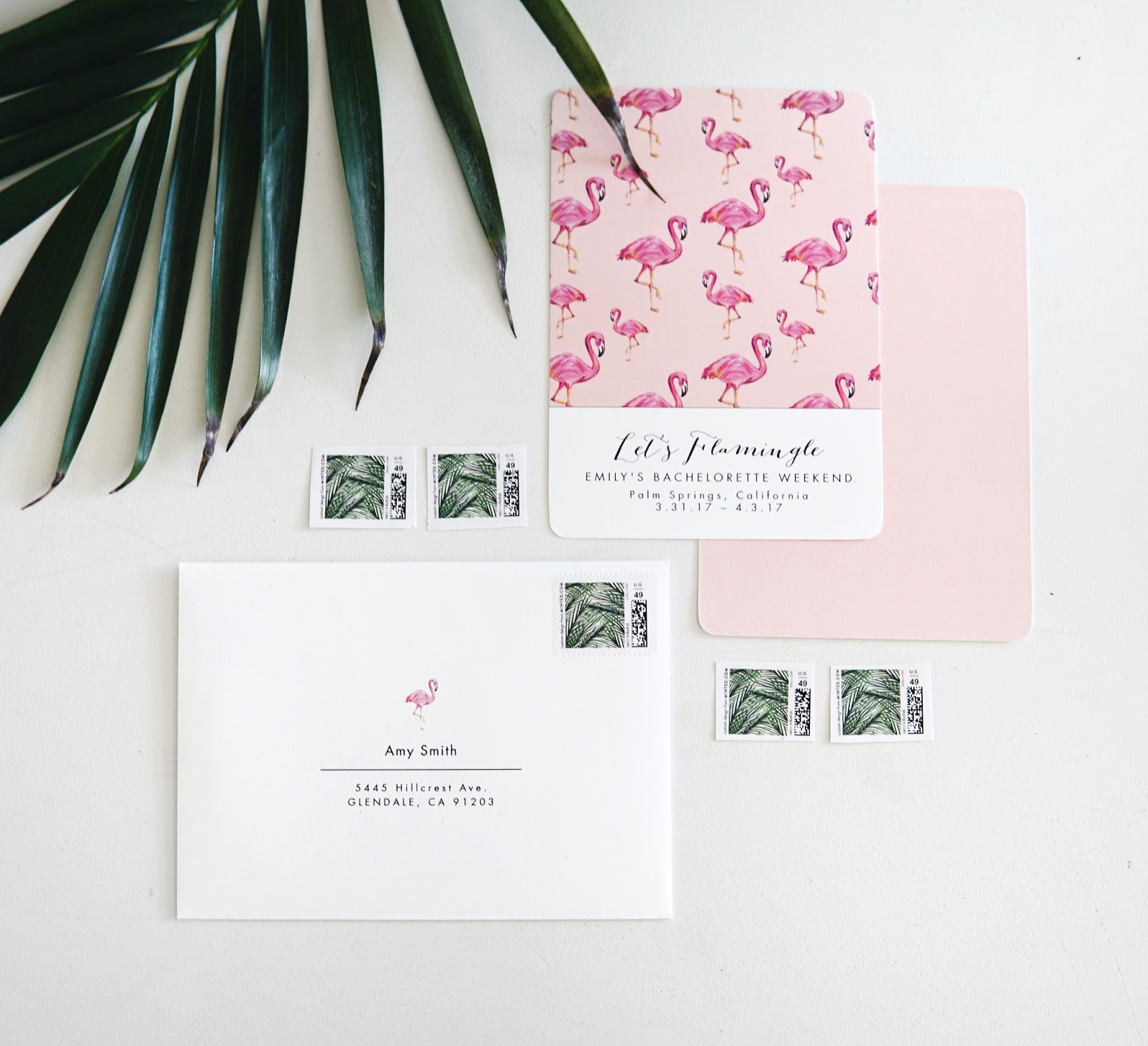 One of my favorite features was the printed envelopes…you simply input your guests name and address and they print the information on the envelopes for you! It looks clean and put together, I highly suggest doing this! Lastly, the stamps…I like the stamp that came with the suite but felt it was too matchy-matchy. What else could fit better with a flamingo than a palm leaf? So, I searched the key word and the perfect stamp popped up! I love how the envelopes look with the tiny flamingo in the center and the palm tree stamp to compliment it.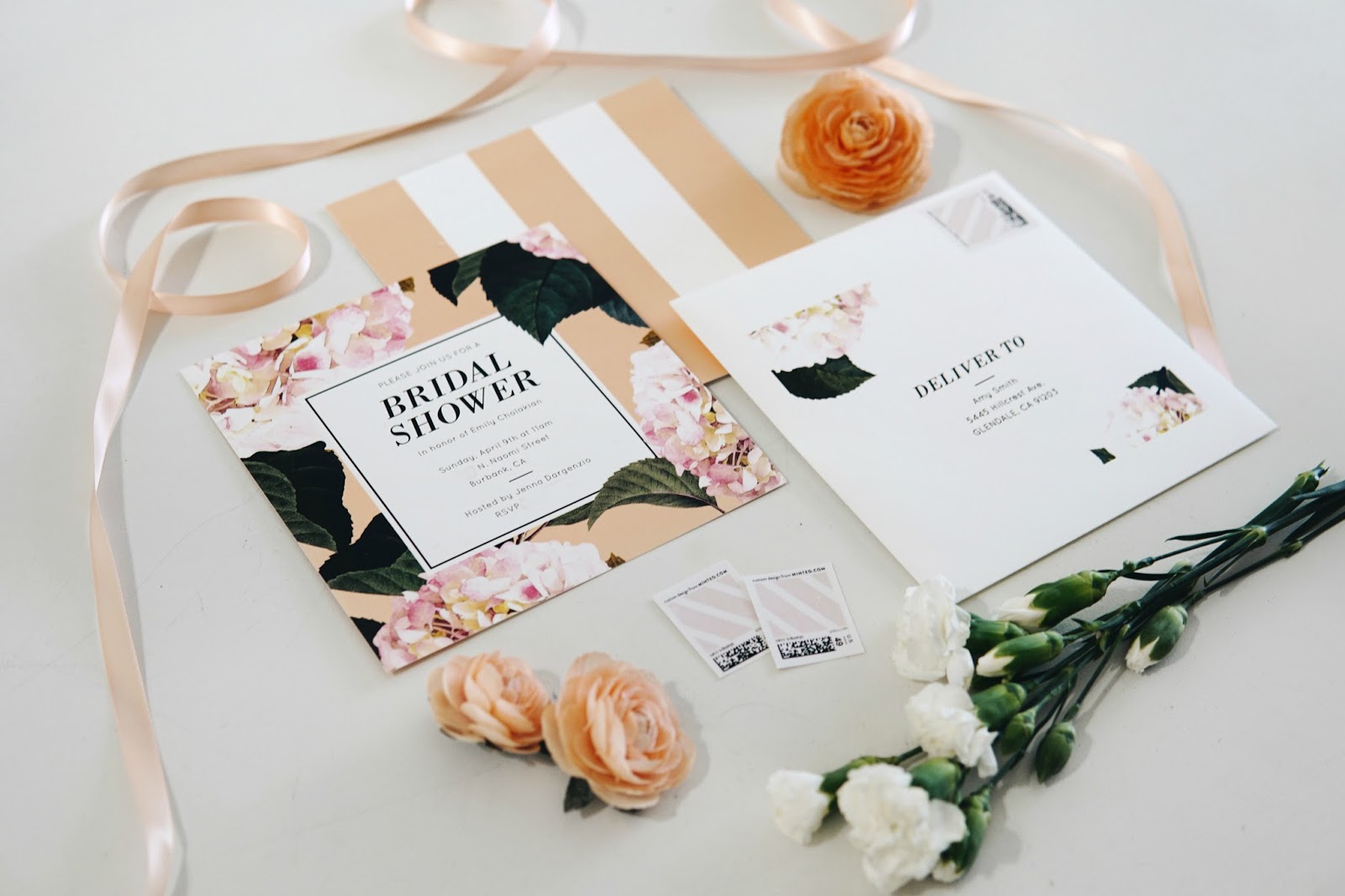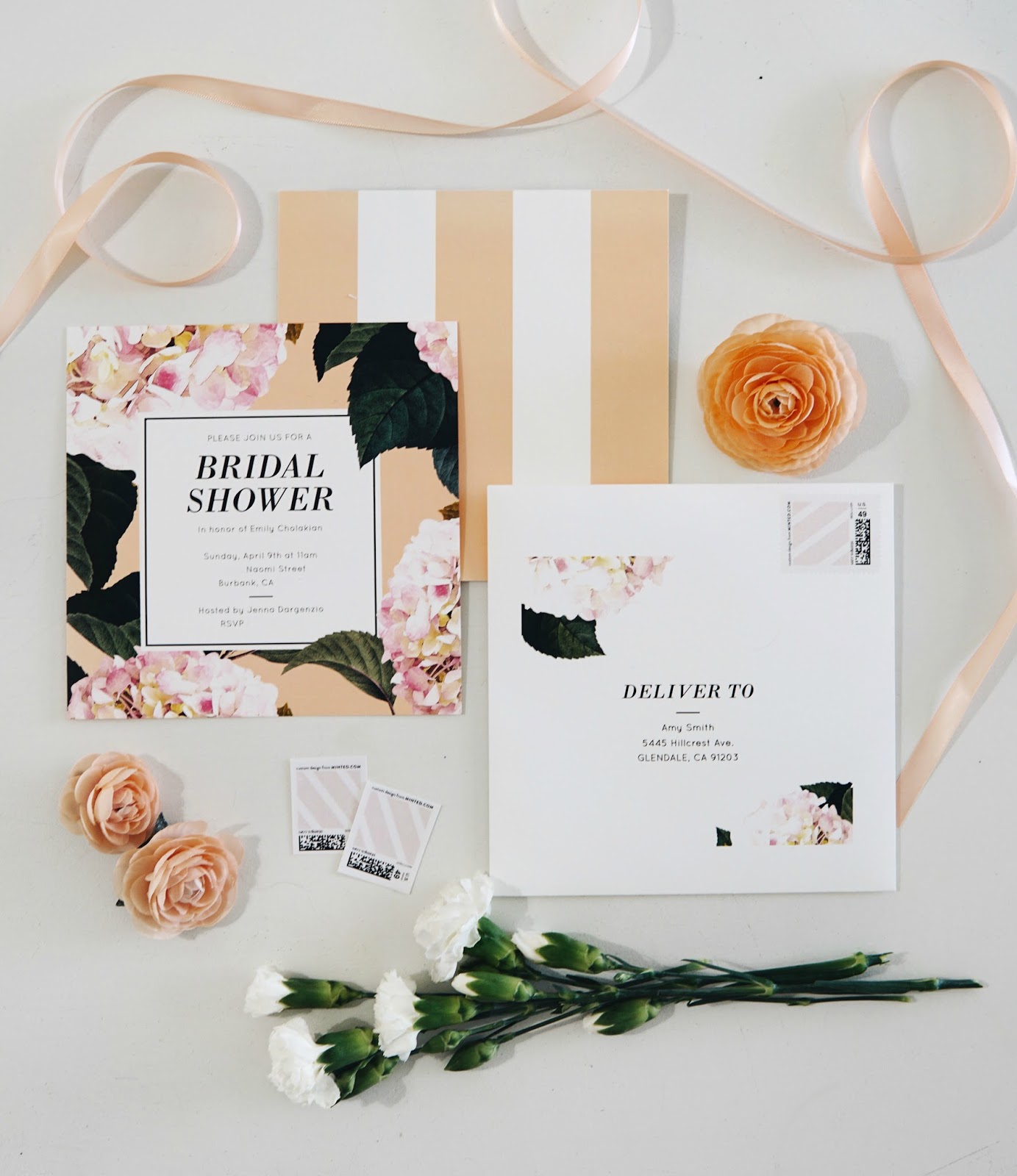 I then moved on to my Bridal Shower invites…not sure what I was looking for! My bridal shower will be an intimate brunch affair with a handful of my closest friends and family. Going off the Spring theme I knew I wanted something flowery and pretty. I searched for "flowers" on Minted and more than 300 pages popped up so I used filters to help omit certain themes and colors. I Favorited about 10 designs and went back to my Favorites tab to analyze. The one that caught my eye was the Peonie Party. I love peonies and the layout really seemed to resonate with me. Once again, the invite was marked as a Wedding Invitation but I customized it to be a Bridal Shower invite! I chose printed envelopes and went with a complimentary pink striped stamp to complete the look.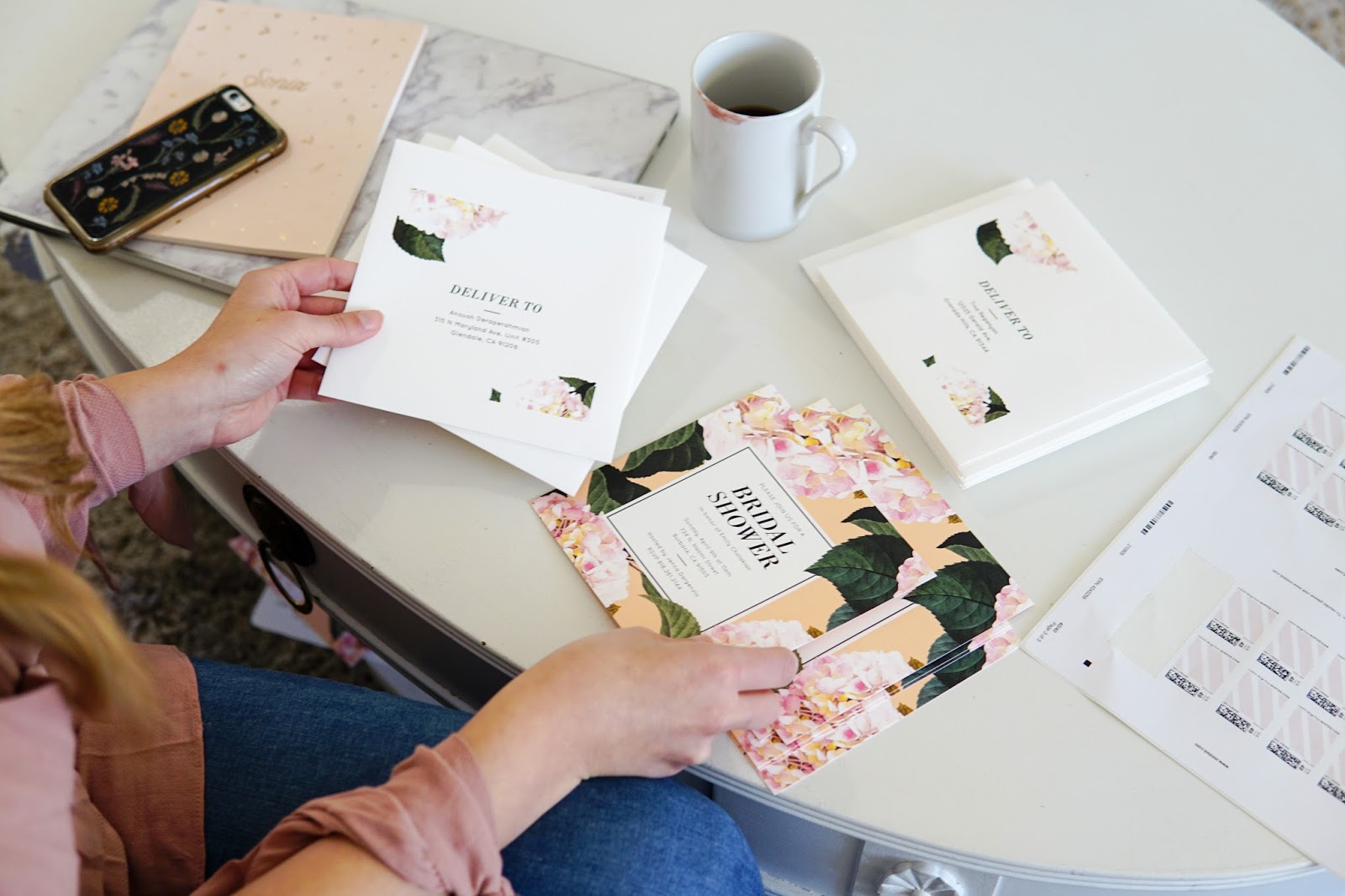 Below are some suggestions to help you customize every detail of your Minted invite:
1. Don't be afraid to pick an invitiation that is not marked for that event. You can make anything yours! I took Save The Date cards and made them Bachelorette Invites.
2. Use the Search bar on the top right hand corner to find specific things you are looking for. Example, flamingos, peonies….
3. Play with the fonts and background colors Minted offers to make it your own.
4. Take advantage of the printed addressing for guests. It looks clean, put together and makes your life so much easier!
5. Search for complimentary stamps rather than using the one that is offered in the suite. This adds a unique twist/look on your invites!
6. Have fun with it!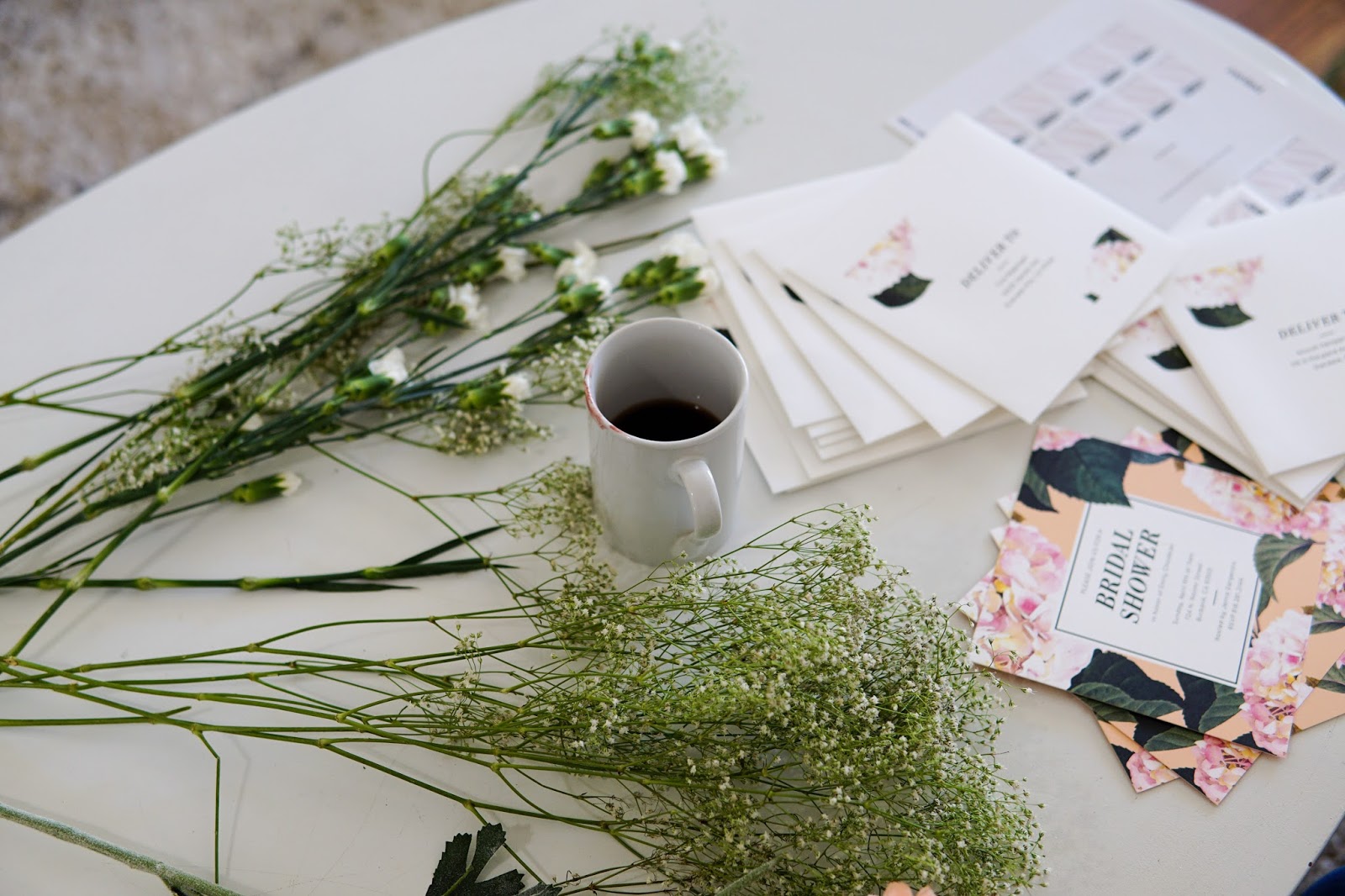 Hope you love what I came up with, I am seriously obsessed with these darling Minted creations!
xo
ejc
This post was sponsored by Minted. Thank you for supporting the brands that support this blog!