I'm no beauty guru and I always start off my beauty posts with that disclaimer. But, if you happen to be looking for beauty tips from a regular girl then you're at the right place!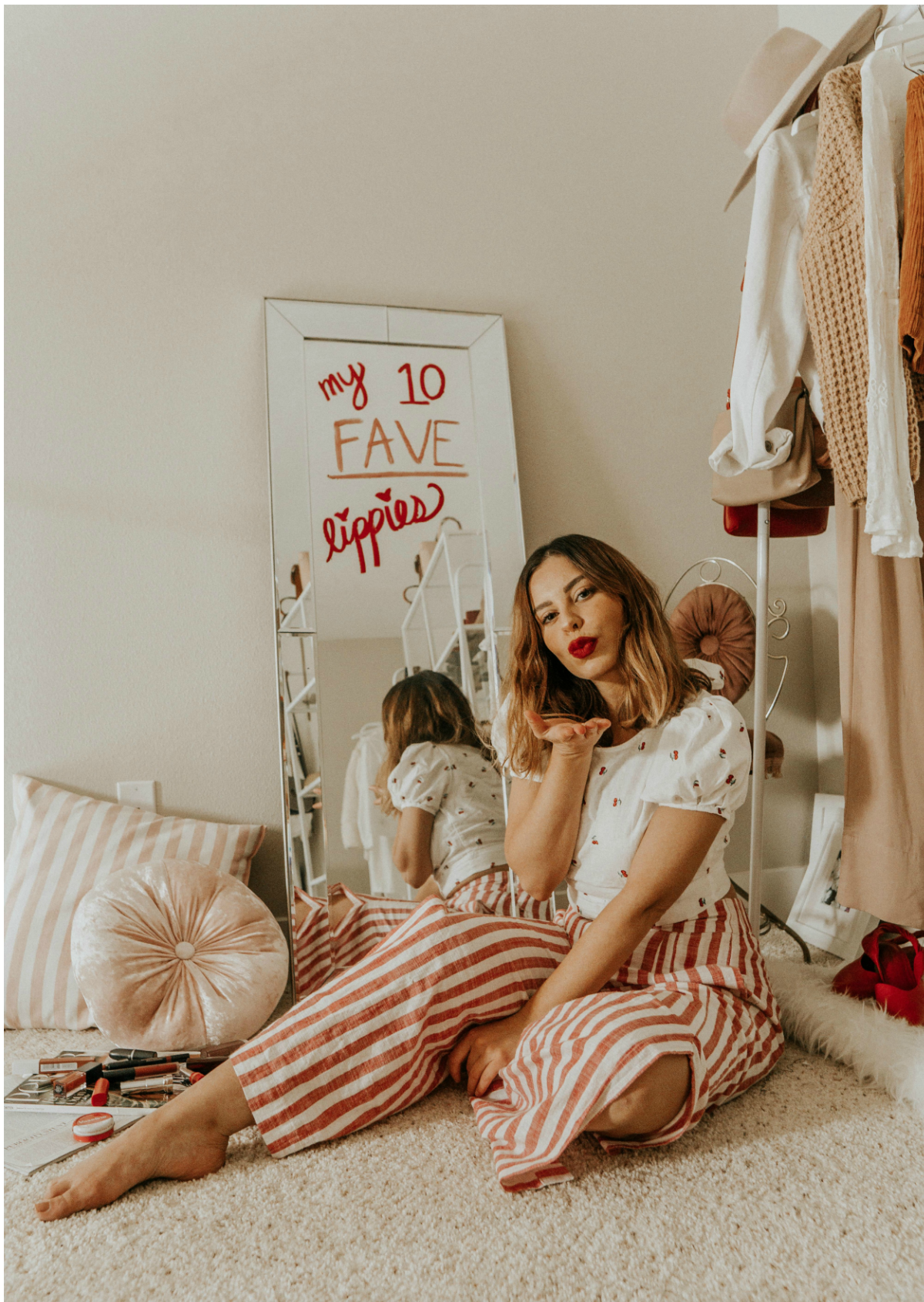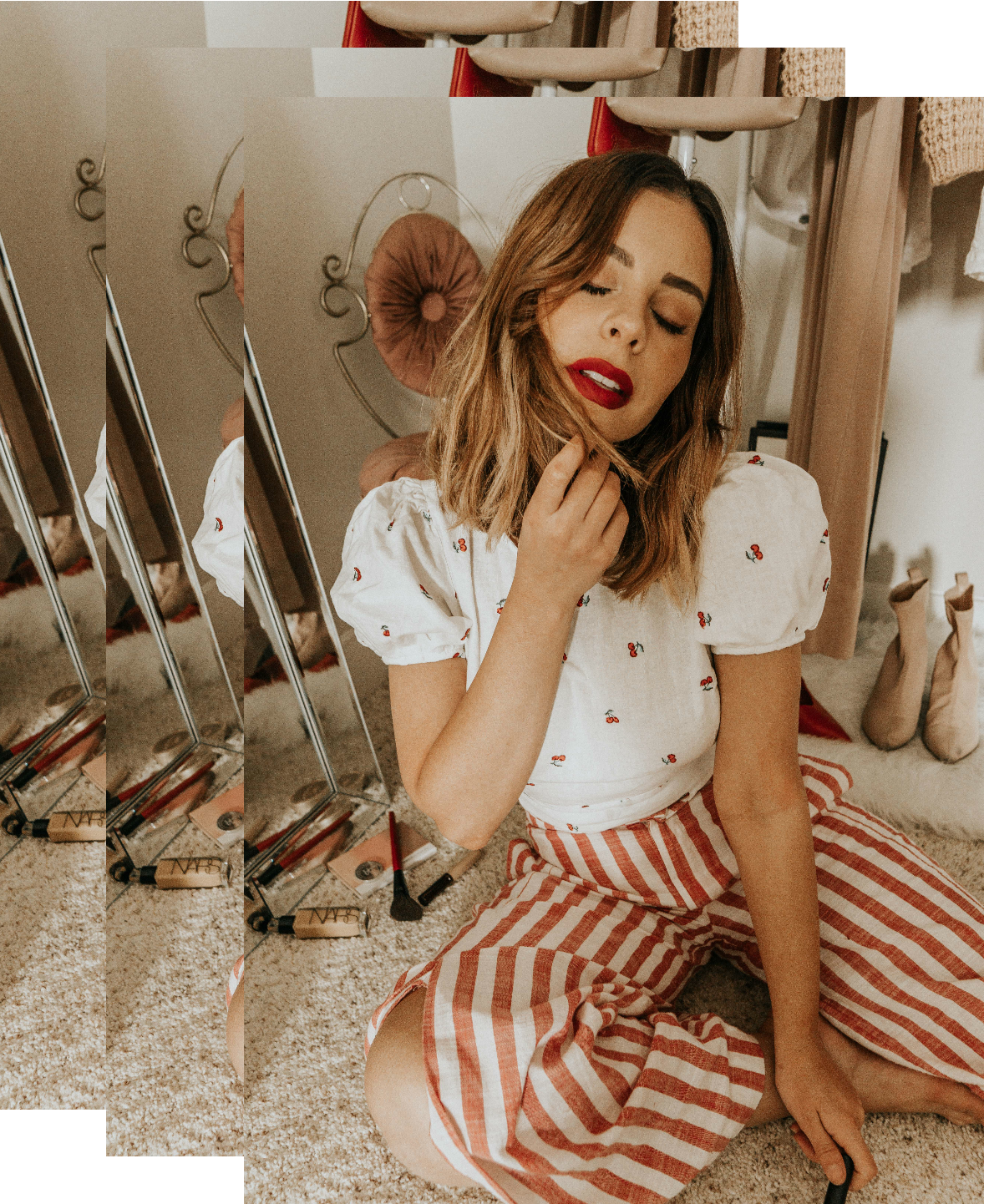 It's no secret that I L O V E lip products. My go-to make up look is a full coverage face, minimal eyes, a bold brow and lips to compliment my outfit. Over the years I've tried a ton of lip products…and I mean A TON…everything from red to black, glosses to mattes, new brands and cult classics. My "favorite" lip products change often but I wanted to share a round up of my TRIED-AND-TRUE lip products. These are the lip products (I say lip products because not all of them are lipsticks!) that I keep going back to over and over and over again. Some are bold, some I have talked about so much you may be rolling your eyes and some are unknown little treasures…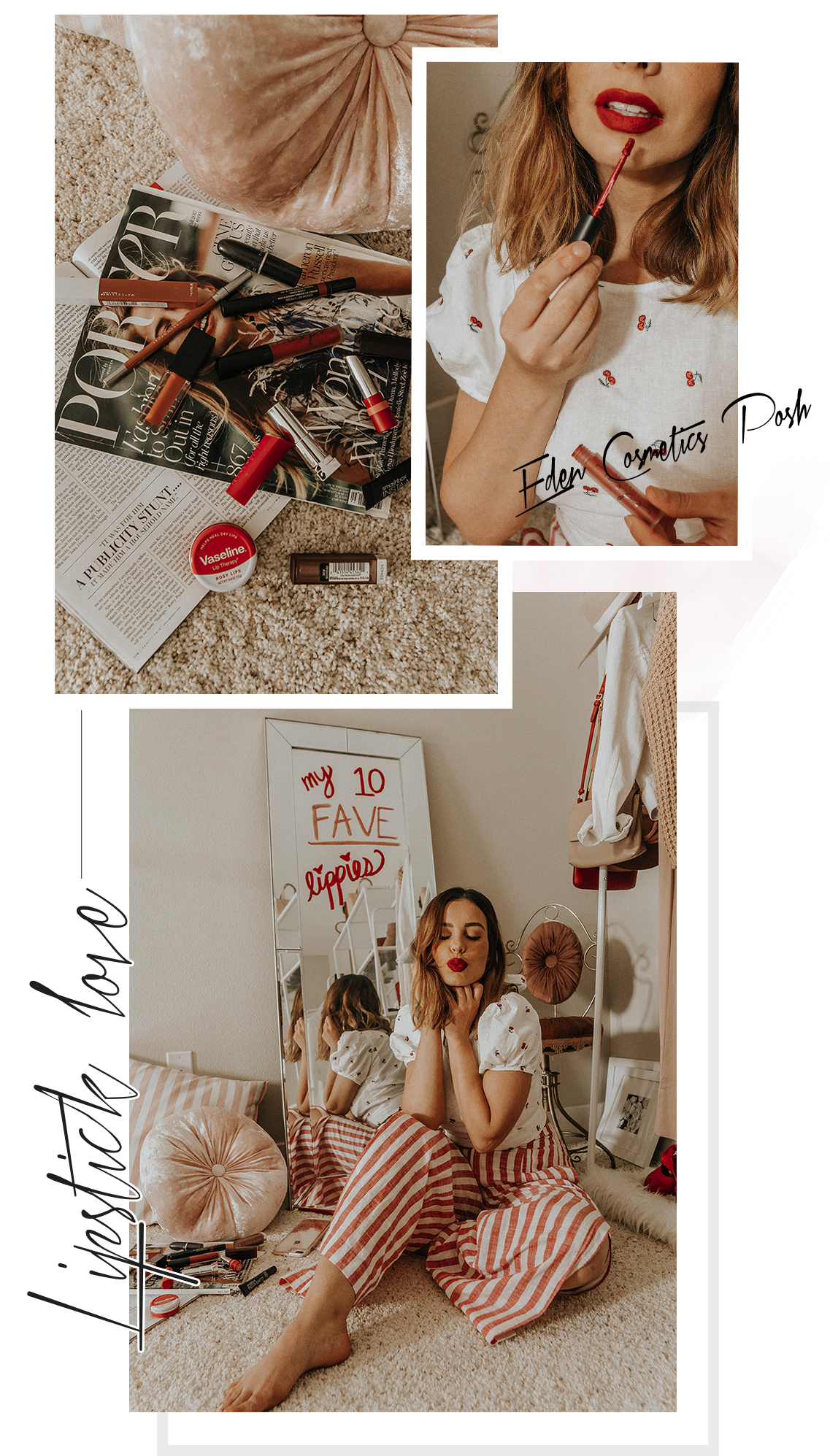 1. DIY Sugar Lip Scrub – You can't feature a lip product round up without starting with a scrub. I like to skip the store bought ones and make a sugar scrub from scratch…it's literally the best thing you can do for your lips! Simply mix: 1 TBSP of Coconut Oil + 1 TBSP of Organic Honey + 2 TBSP of Brown Sugar. Scrub for 3 minutes right before a shower. You'll have baby soft lips!
2. Vaseline Lip Balm – I got hooked on these Vaseline Lip Balms when I worked with them two years ago! My favorite is the Rose flavor. It smells amazing, softens and hydrates my lips plus gives it the softest pink tint. The tin can is cute, easy to travel with and Emin loves it too!
3. Maybelline Color Sensational Matte in Clay Crush – Do I really need to explain Clay Crush? It's literally the lipstick I have been wearing every day of my life for the past two years. I featured it last year in a round up of my favorite lipsticks and it's back again. The Maybelline Color Sensational line is the best formula I have tried for standard lipsticks plus the color Clay Crush is the best nude, pink I have ever tried. Plus it's super affordable!
4. Smashbox Insta-Matte – Have you ever heard of a Lipstick Transformer? Well, the Smashbox Insta-Matte is just that…it transforms any non-matte lip color into a matte one. Think of it as the opposite of a gloss. I LOVE my matte colors but sometimes there is a satin or glossy lipstick that I want to wear but hate the finish…I simply apply this baby over it and wah-la. Instant Matte! It's probably the coolest product in this list.
5. Urban Decay 24/7 Glide-On Lip Pencil in Insanity – This is a slightly new discovery for me but quickly a tried-and-true product. I use the Urban Decay lip pencil in Insanity all over my lips like a lip color. The formula is super creamy for a lip liner (which I love) and the color is the perfect match to the color of my lips. I like using this and applying the Vaseline Lip Balm over it. Plus it's on sale for $10 at Sephora right now!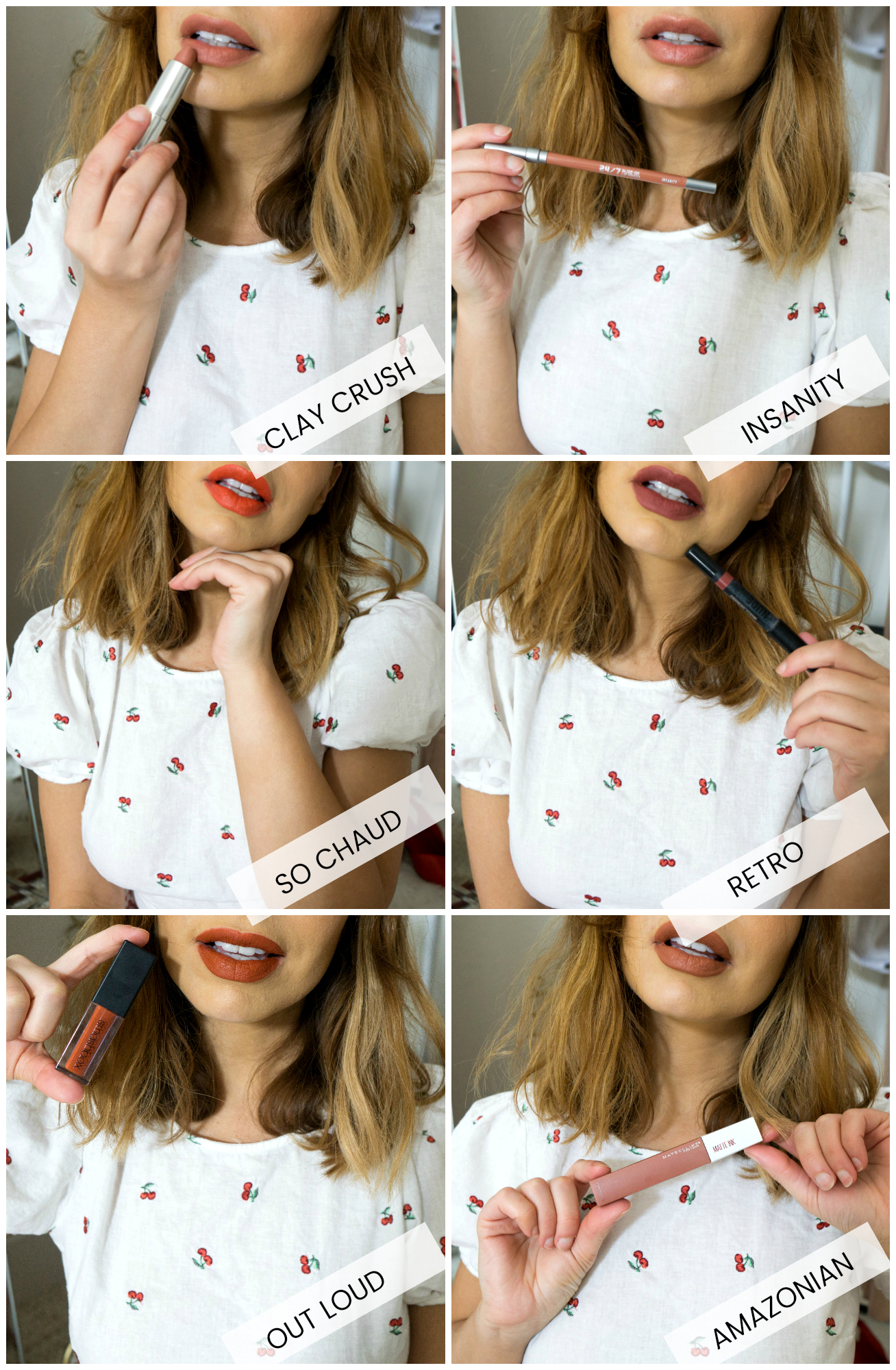 6. Mac Matte Lipstick in So Chaud – When I think of sun-kissed skin and summer lips I think of So Chaud. It's been in my beauty arsenal for over 4 years now! It's a bright, orange-red, matte lipstick that just pops against beautiful tan skin. I love wearing this for a bold lip look! It turns heads.
7. NudeStix Lip Pencil in Retro + Freckle – As far as new brands go NudeStix is probably one of the most recent for me. I love that their packaging is different and that their products are made for more of the every day girl…so very me! Their lip pencils are great and stay on all day! I love color Retro and Freckle both of which are deep mauve shades.
8. Smashbox Always On Liquid Lipstick in Out Loud – This is the perfect fall lip color, Out Loud literally looks like Fall burst on your lips. It's a deep, burnt orange that looks amazing with a tan trench coat or white cardigan. I will say, the formula is a bit drying but damn this Smashbox Always On Liquid Lipstick line literally DOES NOT MOVE.
9. Maybelline Super Stay Matte Ink in Amazonian – Another new product from the folks at Maybelline and another liquid lipstick in this round up! The formula is definitely non-drying and the color lasts all day long. It does have a slightly sticky texture but I don't mind that. The color Amazonian is a unique nude mauve that can be worn all year long!
10. Eden Cosmetics Liquid Lipstick in Posh – It's hard for me to find a true red that isn't skewed to the orange side…I just love orange-reds. But, then Posh came along and I am hooked! If you have olive skin like I do then this is a fantastic true red lippie for you! It's my go-to classic red lip for a night out on the town.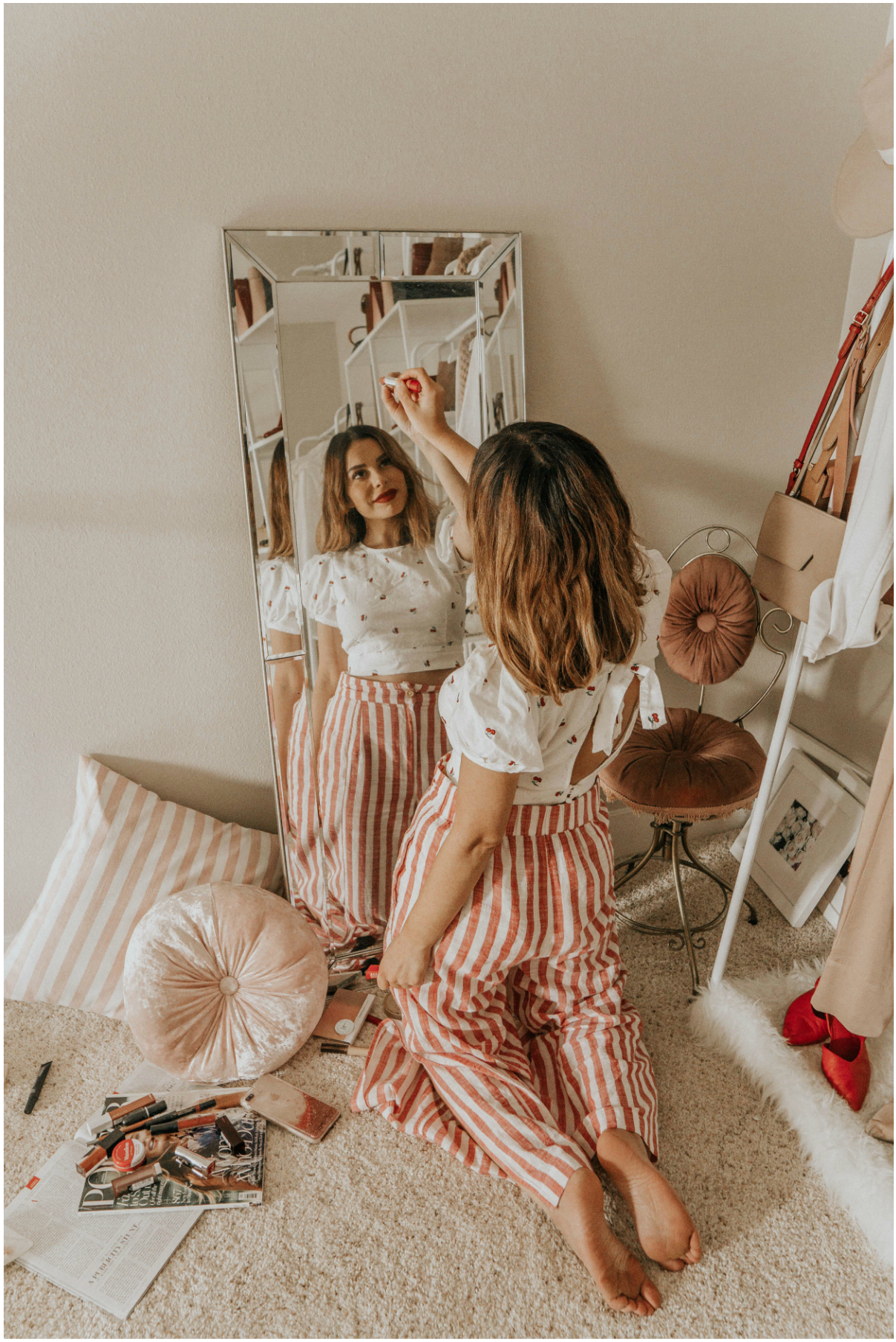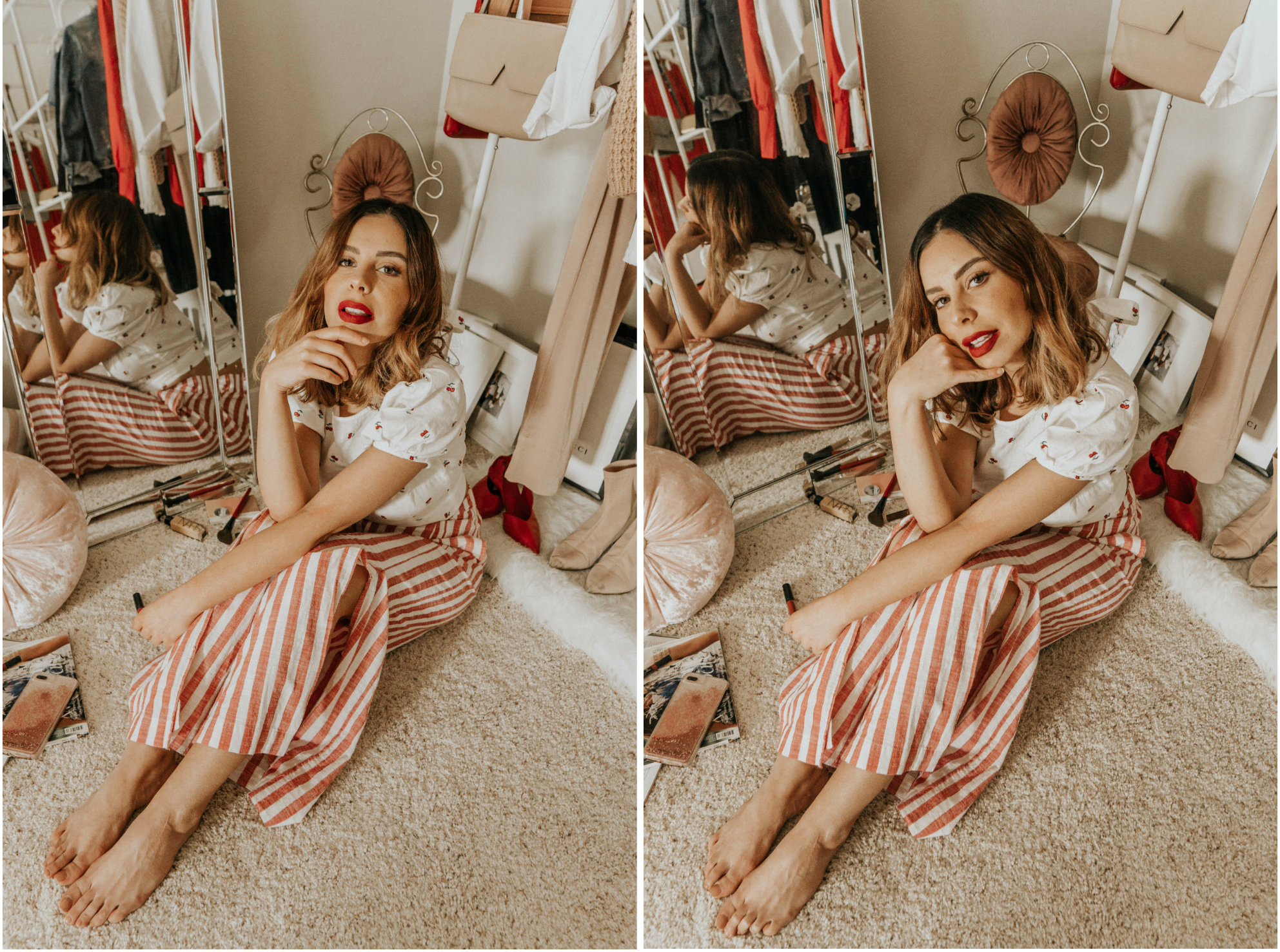 SHOP ALL LIP PRODUCTS
SHOP THE LOOK