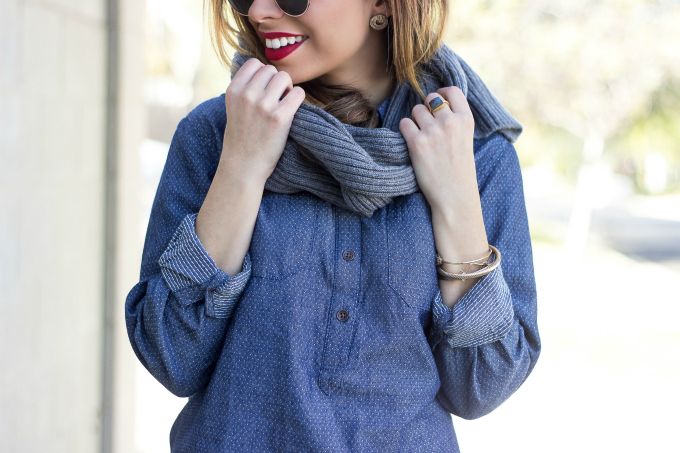 About two weeks ago I posted a mini gift giving guide which included my top
#TOMSforTarget
pieces...
And luckily I got my hands on quite a few of them!
A super cute dotted denim shirt, a grey chunky knit scarf and my new favorite TOMS mug
encrypted with Build Your Tomorrow around the rim.
Talk about motivational...
That is definitely something I need to remind myself every time I take a sip!
I actually visited a few Targets before I made my final decisions...but once I did I felt extremely good about the fact that a purchase for myself was helping someone in need.
In a world very "me" based its nice to subconsciously do something for others.
Feeding America to provide food, The American Red Cross to provide blankets and TOMS to provide shoes.
I for one am certainly not done giving back this season and for 2015 I have set my mind to helping non-profits not just during the holidays but year round.
And I could not help but smile from ear to ear as my mother shot my outfit before I dashed out the door for some more holiday shopping!
I went with a casual, girly look pairing my denim shirt and scarf with a flirty white mini skirt and sandals.
Pieces are selling fast so if you want to join in on giving back now is the time to do it!
TOMS for Target: One-for-One. For All. Starting November 16th, for every Target+TOMS limited edition gift you buy, we're (Target) giving shoes, a blanket or meals to those in need.
xo
ejc
Disclosure: Compensation was provided by Target via Mode Media. The opinions expressed herein are those of the author and are not indicative of the opinions of positions of Target.