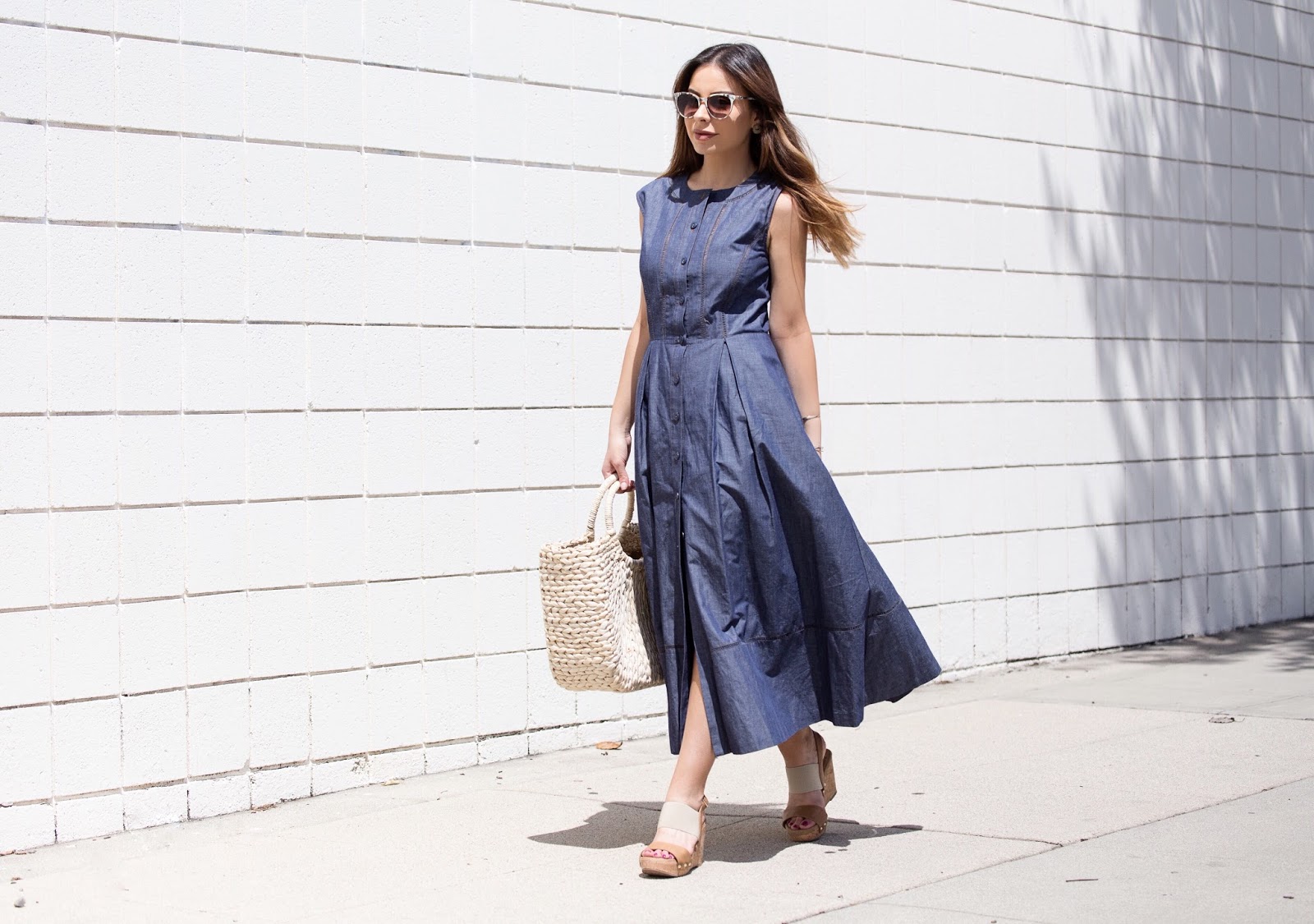 With fashion anything goes and more often then not people push themselves to stand out amongst the crowd and make a statement. We all want to be trendsetters, the earlier adopters but taking a relaxed approach to styling oneself is really where true fashion stars shine. I've partnered with Armani Exchange to bring you some tips and tricks that will have you making a major fashion statement in the most effortless way!
1.

    

(Fit/Cut) Denim Flare Dress – A fit and flare style dress is charming as it is flattering. The key to making a statement is wearing pieces that accentuate your figure and highlight your assets. The fit and flare dress works for every shape and size, trust me! If you happen to find this style in an interesting textile, like denim or a colorful print, you have struck gold! I particularly love this style by Armani Exchange because it ends at my ankles giving it a slightly upscale look. I styled my look for a Sunday at the Farmers Market, wearing summer wedges and a straw bag.
2.

    

(Color) White Dress – In a sea of Little Black Dresses, otherwise known as the LBD, wear the Little White Dress! A simple color swap from black to white will have all eyes on you. I opted for an Armani Exchange white embroidered shift dress that is classic and demure. I kept the look simple with nude accessories and marble studs!
3.

    

(Trendy take on classics) Short Set – I always find that taking inspiration from past eras is a great way to make a statement with your wardrobe. Take for example the matching short set that was made popular in the 1950's! Many people wouldn't think to wear it today but the style is so understated and has made a huge come back! This Armani Exchange short set is a great depiction of a modern-day short set that will have people thinking…"Hmmm that's super cute and different!" I styled this set with chunky heeled sandals and a straw hat for some added flare.
4.

    

(Unexpected twist) Boyfriend Jeans – When you think of boyfriend jeans you probably think of a slightly more masculine, androgynous look but the thing about fashion is that it can be interpreted in many different ways. I decided to take my boyfriend jeans and add a feminine twist to them by pairing it with a white delicate blouse and light pink accessories! Think outside the box, take a feminine piece like a full skirt and make it edgy by pairing it with a leather jacket. An unexpected twist will always leave a lasting impression.
5. (Confidence) Whether you rock denim on denim, a flow dress, or minimalistic from head to toe the ultimate key to making a fashion statement is to be confident in your look! Wear what you like and push boundaries by owning your personal style!


xo
ejc